For Good
Financial Literacy Tour
Our Financial Literacy Tour uses the power of a live rock performance and our own personal story to inspire young people with lessons of finance and discipline to help them see their own dreams as possibilities.
Through a concert, multimedia presentation and talkback, we discuss predatory lending, the danger of credit card debt, saving early and looking to students' own communities for support and mentorship, while exposing the myth of rock stars, athletes and actors who sell the false image of overnight success.
Students who do not receive this message early often drop out of college and return to the same cycle of financial irresponsibility as their parents. Children from lower income households and un-banked families are especially at risk.
We seek corporate sponsorships to fund our FinLit Tour. Our sponsors include US Bank and in Wyoming, and Credit Union of America in Kansas.
When corporate sponsorship funds are not available, and there is little or no school budget, our program is funded by Funding the Future, Inc. Funding the Future (FTF) has goals that are similar to our FinLit Tour, and it has been active in ensuring we are able to perform whenever there is an opportunity for presenting our program to students.
We are officially registered as a nonprofit and donations can be sent to Funding the Future at the address below.
Funding the Future
2400 Dunn Avenue
Cheyenne, WY 82001
You can also donate by clicking on the "donate" button on the FTF website:
http://fundingthefuturelive.org
TOPICS
COVERED
Trusting your heart and following your passion
The importance of self-reliance
The impact of education and finding mentors in your community
Financial Literacy—pitfalls, plans of action, warnings against predatory lending/pay day loans etc.
Slow and steady wins the race— not believing the hype of overnight success (examples of athletes, actors and actresses and music stars who are in severe financial stress)
Expenses rising to meet income (the façade of inheritance, lottery, record deals, pro-sports deals etc solving one's long term problems)
Lessons learned from a life in the music business and how these experiences extend to any field
(i.e., this is an interdisciplinary presentation)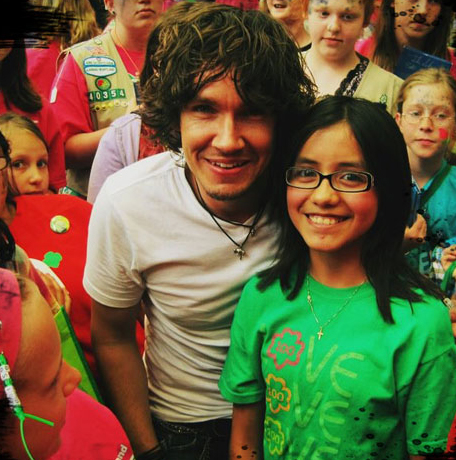 PREVIOUS
ENGAGEMENTS
Operation Hope: Quincy Jones and John Hope Bryant's organization to provide financial literacy to inner-city schools and "make smart sexy again"; Gooding was chosen as a Celebrity Ambassador in 2010.
Speaker at the 63rd, 64th and 65th annual Conference of World Affairs in Boulder, CO. Gooding was one of only 100 people from around the world chosen to join the conference, which had over 92,000 visitors last year.
The

PCRM

(Physician's Committee for Responsible Medicines) 25th Anniversary Gala in 2010. Gooding is an Honorary Committee member alongside Ellen Degeneres, Alec Baldwin, and Woody Harrelson.
Taught Masterclass at 2013 Grammy Camp,

UCLA

with instructor Gale Rosenberg and at

UNC

Charlotte (Instructor Noel Freidline.
Over 35 presentations at Apple and Border stores around the US.
Created and moderated the panel "From Stage to Screen" at the American Film Institute on behalf of the Society of Composers and Lyricists.
Speaker on several music panels at

SXSW

Austin, and

TAXI

's road rally in Los Angeles 2012.
Workshop and performance with the drumline at Beatrice High School in Nebraska; the band played Gooding' s music in their regional competition.
Presentations at over 20 Jr. High Schools in USD259 in Wichita, KS.
Financial lIteracy shows at 30 High Schools in KS, CO, and WY; sponsors have included Credit Union of America and US Bank.






TESTIMONIALS
"I am delighted to recommend to anyone wanting to help communicate about financial literacy to almost any audience, that they use the services of Gooding. Their method, delivery and message is timely and important and they give it in just the right way – never preachy or academic – just real.
Mark Gordon
Wyoming State Treasurer/Former Director of Federal Reserve Bank, Kansas City
"Gooding's message has more potential to impact and influence masses of young people than any financial literacy lesson in our curriculum. His 'cool factor' cannot be matched by any ordinary teacher, preacher, parent or banker. His message is sincere, void of any pretension and potentially life changing. I can't wait for my own children to learn from him!"—Michele DeHoff, Assistant Vice President, Cheyenne Business Banking Relationship Manager, U.S. Bank.
"A very unique, effective way to educate kids…a rock band that speaks to financial responsibility and its importance! Gooding reaches students that a 'coat and tie' can't!"— Steve Lovas, Regional President, U.S. Bank
"I've been amazed at the quality of questions coming from students at the end of each show and the follow up comments and questions seen on social media. The tour truly is making an impact on many lives." —Stacy Mahany, Youth and Education Co-ordinator, Credit Union of America
"The Gooding music and message are exactly the relevant communication we were looking for. This is the type of programming that will kick off our next 100 years and continue to build character and responsibility in our girls."
—Gretchen DiGiovanni, Director of Development of Girl Scouts of Kansas Heartland
"Gooding and his band were a HUGE hit at our school. He combines a very down-to-earth message with humor and sincerity. Very relevant but still a lot of fun. Our students were immediately able to relate to him. We will definitely have him back." —Noel Friedline, Lecturer in Music, University of North Carolina, Charlotte
"Gooding did an outstanding job blending the importance of financial management with the achievement of the students' long term goals. To weave that into a concert that the kids absolutely loved proved to be a huge success." –Mike Wampler, SVP, Technology Division Manager, Emprise Bank
"The music and prestige of the band hooked the students from the beginning, so when the message was presented, they were attentive and excited. They enjoyed themselves and walked away with a better understanding of financial literacy and how it affects their lives." —Christie Radford, Asst. Principal/Curriculum-Testing Director, Goodard High School



BOARD

OF

DIRECTORS

AND

STAFF

Rita Pouppirt
Executive Director, Funding the Future

Michele DeHoff
Assistant Vice President, US Bank

Howard Blitz
Sr. Vice President, Smith Barney

Erin Calvin
Creative Director, Anthem Media Group

Lance Vannerson
Sr. Marketing Manager, Pepsi Co.

Mike Wampler
Sr. Vice President, Emprise Bank

John Perkins
Sr. Vice President Investor Relations, First Wyoming Capital

Lisza Gulyas
President, VuConcepts
PREVIOUS
SCHOOLS
VISITED
Grammy Camp LA – USC- Los Angeles, CA
UCLA – Los Angeles, CA
Ann Richards Schools for Young Women Leaders – Austin, TX
Art Institute – St Louis, MO
Boulder High – Boulder, CO
UNC – Charlotte, North Carolina
Marshall Middle School – Wichita, KS
Curtis Middle School- Wichita, KS
North High – Wichita, KS
South High -Wichita, KS
Wilbur High – Wichita, KS
West High – Wichita, KS
South East High – Wichita, KS
NorthWest High- Wichita, KS
Andover High -Wichita, KS
Maize High – Wichita, KS
Maize South High – Wichita, KS
Valley Center High – Wichita, KS
South East High – Wichita, KS
Wichita Orpheum Theatre (Bussed in 20 local Jr.High Schools)
Derby High – Derby, KS
Great Bend High – Great Bend, KS
Eisenhower High – Goddard, KS
Goddard High – Goddard, KS
Girl Scouts 100yr Celebration – Greensburg, KC
Central High – Cheyenne. WY
South High – Cheyenne. WY
RADIO
INTERVIEWS
KUWR – Wyoming Public Radio- Live performance and interview
KAZY – Cheyenne, WY – Live performance and interview
KFBC – Cheyenne, WY – Live performance and interview
KRRR- Cheyenne, WY – Live Interview
KING – Cheyenne, WY – Live Interview
WBSD – Miluakee, WI – Live performance and interview
KRML – Carmel, CA – Live performance and interview
KTAOS – Taos, NM – Live performance and interview
KJML – Joplin, MO – Live performance and interview
Indio Radio – St Louis, MO – live performance and interview
KFTK- Dave Glover Show- St Louis, MO – live performance and interview
TV
INTERVIEWS
GRAMMY CAMP  http://www.grammy.com/videos/2014-grammy-camp-basic-training-highlights
KCWH – Wichita, KS – Live performance and interview
KTVI – St Louis, MO (FOX) – Live performance and interview
PCTV- Park City, UT – Live performance and interview
Download Forms:
(Requires Adobe Reader - Click icon to download)