For Good
Eco Bus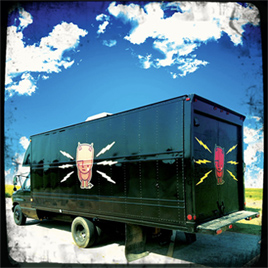 Our Wheels: Lil Red 1
Woe was the moment when we watched the new owner of our old Ford van turn the corner and drive it away for the last time. That beloved chariot had absorbed 289,000 miles of our smiles, break-downs, triumphs, laughter and tears. It wasn't easy saying goodbye, but it was time for a new era of travel to begin.
We knew we wanted the new ride to be something unique. We wanted more space inside for more friends, plenty of cargo space so we could ditch the trailer, we wanted it to look cool, and above all, be cool—by figuring out how leave behind the smallest footprint possible.
With the sweat of our close friends and family, and the support of our extended family (our fans, who generously donated to our Indiegogo campaign), we were able to begin building the same spirit from our old van into our new coach. If anyone has ever seen the movie Jeepers Creepers (and if you hang around Billy Driver you have) the initial step towards our goal had us banging around (unpleasantly) in a battle-axe metal monster, much like the scary truck from the movie.
Fortunately, stage two of the process featured the raw talent and time of us and our friends, who gathered all but a handful of the recycled materials that would make a cage a coach. We found a larger box from another truck that was big enough for band and the contraband. We found road-side sets of lockers, sound-proofing from old studios (thank you Trees for Life in Wichita), foam cushions from old couches, scrap wood for the framing, and scrap carpet for the ceiling, just to name a few. I don't remember who earned the MVP award for finding the ceiling carpet, but every band should have it. To cut out generator emissions, we've now installed solar panels to the top to run all of the electronics on board (Thank you Jeff Lubbers and Solar Sam in Boulder, CO), including a portable studio where several new songs for the "We Are The Dark Stars" LP were written, including "Home Is Where You Are" and "Losing My Way".
We present to you, "Lil Red 1". If the sun shines in your city, we'll be through soon.
-JR
Download Forms:
(Requires Adobe Reader - Click icon to download)