For Good
Financial Literacy Tour
We founded the 501©3 non-profit charity "Funding The Future" to help level the playing field for students around the country with the hope of making financial literacy a requirement in every high school. We use the power of a live rock performance and our own personal story to inspire young people with lessons of finance and discipline in hopes they may see their own dreams as possibilities.
Through a concert (now virtual), multimedia presentation and talkback, we discuss predatory lending, the danger of credit card debt, saving early and looking to students' own communities for support and mentorship, while exposing the myth of artists, athletes and actors who sell the false image of overnight success.
Students who do not receive this message early often drop out of college and return to the same cycle of financial irresponsibility as their parents. Children from lower income households and un-banked families are especially at risk.
Gooding has spoke about the program on NPR's All Things Considered, on CNBC and in a feature in the Wall Street Journal.
The program is of NO COST to any school. If you are interested in booking or sponsoring a show please contact:
cheryl.d@fundingthefuturelive.org for more info.
https://www.fundingthefuturelive.org/
Sponsors have included Raymond James, Jonah Bank, United Way, First Interstate Bank, Nebraska Council on Economic Education, Texas Council On Economic Education, US Bank, PInnacle Bank and dozens more.
TOPICS
COVERED
Trusting your heart and following your passion
The importance of self-reliance
The impact of education and finding mentors in your community
Financial Literacy—pitfalls, plans of action, warnings against predatory lending/pay day loans etc.
Slow and steady wins the race— not believing the hype of overnight success (examples of athletes, actors and actresses and music stars who are in severe financial stress)
Expenses rising to meet income (the façade of inheritance, lottery, record deals, pro-sports deals etc solving one's long term problems)
Lessons learned from a life in the music business and how these experiences extend to any field
(i.e., this is an interdisciplinary presentation)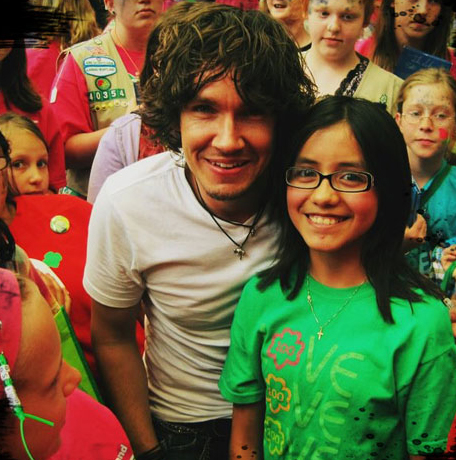 TESTIMONIALS
"You guys are so talented! The music was so fresh and alive, I couldn't get enough of it. I'm amazed by what y'all are doing, teaching the youth about finances is fantastic. I'm honestly so impressed and over all awestruck by you. Love y'all, rock on!" – 8th grader, Austin, TX
"The concerts in Billings were amazing. The concerts and message they did is just wonderful. The group was very friendly and the kids seemed to love them. The teachers were the most appreciative of the message. Because as many of them said we didn't get talked to about these things when we were younger. Thanks again for the great program. It was very well received and appreciated." – Amy Carter, First Interstate Bank Billings, MT
"I just got back from the concert and I would say that it was a complete success! The kids were engaged, the music was great, and the school administrators were very happy with the program. We had several bank employees show for the event, and they were all very impressed with the show. It was wonderful working with you to bring this program here to Gillette, and I hope that we will be able to work together again in the future. Good luck with your upcoming shows… I'm sure they'll all be as successful as ours." – Cheryl Holcomb, First Interstate Bank Gillette WY
"Campbell County High School (WY) had the honor of hosting GOODING and Funding the Future Live today as they shared the importance of Financial Literacy! We had this group come when I taught in Cheyenne and they did a great performance then and an Awesome show today!!! I think all parts of education are important, but as a Business Teacher, I'm biased in promoting how extremely important personal finance education is! Thank you to First Interstate Bank for sponsoring our show." – Andrew Borgialli, Teacher
"I am delighted to recommend to anyone wanting to help communicate about financial literacy to almost any audience, that they use the services of Gooding. Their method, delivery and message is timely and important and they give it in just the right way – never preachy or academic – just real.
Mark Gordon
Wyoming State Treasurer/Former Director of Federal Reserve Bank, Kansas City
"Gooding's message has more potential to impact and influence masses of young people than any financial literacy lesson in our curriculum. His 'cool factor' cannot be matched by any ordinary teacher, preacher, parent or banker. His message is sincere, void of any pretension and potentially life changing. I can't wait for my own children to learn from him!"—Michele DeHoff, Assistant Vice President, Cheyenne Business Banking Relationship Manager, U.S. Bank.
"A very unique, effective way to educate kids…a rock band that speaks to financial responsibility and its importance! Gooding reaches students that a 'coat and tie' can't!"— Steve Lovas, Regional President, U.S. Bank
"I've been amazed at the quality of questions coming from students at the end of each show and the follow up comments and questions seen on social media. The tour truly is making an impact on many lives." —Stacy Mahany, Youth and Education Co-ordinator, Credit Union of America
"The Gooding music and message are exactly the relevant communication we were looking for. This is the type of programming that will kick off our next 100 years and continue to build character and responsibility in our girls."
—Gretchen DiGiovanni, Director of Development of Girl Scouts of Kansas Heartland
"Gooding and his band were a HUGE hit at our school. He combines a very down-to-earth message with humor and sincerity. Very relevant but still a lot of fun. Our students were immediately able to relate to him. We will definitely have him back." —Noel Friedline, Lecturer in Music, University of North Carolina, Charlotte
"Gooding did an outstanding job blending the importance of financial management with the achievement of the students' long term goals. To weave that into a concert that the kids absolutely loved proved to be a huge success." –Mike Wampler, SVP, Technology Division Manager, Emprise Bank
"The music and prestige of the band hooked the students from the beginning, so when the message was presented, they were attentive and excited. They enjoyed themselves and walked away with a better understanding of financial literacy and how it affects their lives." —Christie Radford, Asst. Principal/Curriculum-Testing Director, Goodard High School



PREVIOUS
SCHOOLS
VISITED
Kansas City Federal Reserve – Kansas City, MO (Kansas City Public Schools)
Denver Federal Reserve – Denver, CO (Denver Public Schools)
Miami Arsht Center – Miami, FL (Miami Dade Schools)
Tuscaloosa Amphitheater – Tuscaloosa, AL (Tuscaloosa Public Schools)
Lisner Auditorium – Washington, DC (Montgomery County Schools)
University of Nebraska – Lincoln, NE
University of Wyoming – Laramie, WY
Grammy Camp LA – USC- Los Angeles, CA
UCLA – Los Angeles, CA
Miami South Dade Public Schools – Miami, FL
St. Petersburg High – St. Petersburg, FL
Immokalee High – Immokalee, FL
Central City High – Central City, NE
Grand Blanc High – Grand Blanc, MI
John Overton High – Nashville, TN
Fint Kearsly High – Flint, MI
Longmont High – Longmont, CO
Little Flower Catholic School – Philadelphia, PA
Upper Dublin High – Fort Washington, PA
North Penn High – Lansdale, PA
Ann Richards Schools for Young Women Leaders – Austin, TX
Art Institute – St Louis, MO
Boulder High – Boulder, CO
UNC – Charlotte, North Carolina
Samuel M. Inman Middle School – Atlanta, GA
Marshall Middle School – Wichita, KS
Curtis Middle School – Wichita, KS
Clyde A Erwin High – Asheville, NC
North High – Wichita, KS
Lewis & Clark Middle – Billings, MT
South High -Wichita, KS
Clyde A Erwin High – Asheville, NC
Wilbur High – Wichita, KS
Clyde A Erwin High – Asheville, NC
West High – Wichita, KS
Treynor High – Treynor, IA
South East High – Wichita, KS
Bullis School – Potomac, MD
NorthWest High- Wichita, KS
Arcadia University – Glenside, PA
Andover High -Wichita, KS
Maize High – Wichita, KS
Helen Bernstein High – Los Angeles, CA
Maize South High – Wichita, KS
Valley Center High – Wichita, KS
South East High – Wichita, KS
Victoria Composite High – Victoria, Canada
Wichita Orpheum Theatre (Bussed in 20 local Jr.High Schools)
Derby High – Derby, KS
Great Bend High – Great Bend, KS
Buffalo High – Buffalo, WY
Eisenhower High – Goddard, KS
Goddard High – Goddard, KS
Girl Scouts 100yr Celebration – Greensburg, KC
Central High – Cheyenne. WY
South High – Cheyenne. WY
RADIO
INTERVIEWS
KUWR – Wyoming Public Radio- Live performance and interview
KAZY – Cheyenne, WY – Live performance and interview
KFBC – Cheyenne, WY – Live performance and interview
KRRR- Cheyenne, WY – Live Interview
KING – Cheyenne, WY – Live Interview
WBSD – Miluakee, WI – Live performance and interview
KRML – Carmel, CA – Live performance and interview
KTAOS – Taos, NM – Live performance and interview
KJML – Joplin, MO – Live performance and interview
Indio Radio – St Louis, MO – live performance and interview
KFTK- Dave Glover Show- St Louis, MO – live performance and interview
TV
INTERVIEWS
GRAMMY CAMP  http://www.grammy.com/videos/2014-grammy-camp-basic-training-highlights
KCWH – Wichita, KS – Live performance and interview
KTVI – St Louis, MO (FOX) – Live performance and interview
PCTV- Park City, UT – Live performance and interview
KGWN – Cheyenne, WY – Interview
K2TV (ABC) – Good Morning WY – Casper, WY – Interview and Live Performance
KMIR-TV (NBC) – Palm Desert, CA – Interview
Global News Edmonton – Edmonton, Canada – Interview