Words
About the Band
Gooding, Guitar and Vocals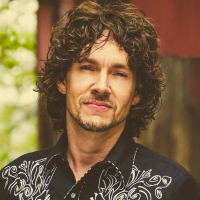 Stats:
Name: Gooding
Zodiac: Pisces
From: Wichita, KS USA
Currently: Los Angeles, CA
Vitals: Brown hair; Green eyes; 5' 10
Story:
Born outside of Detroit and Raised by a Rock n' Roll DJ father and classically trained mother, Frontman/namesake Gooding saw KISS at Age 4, heard Queen's "Flash Gordon" soundtrack, and the die was cast forever. G moved to Wichita at age 12, hid in his bedroom imitating Jimi Hendrix and Yngwie Malmsteen, and soon met drummer/brother in arms Jesse Rich. With some awful maroon carpet nailed to an 8×8 basement room on 27th street, G wrote and recorded every waking hour, setting the stage for what would be the band's future label, merch and publishing company. JR replaced G's KISS records with Led Zeppelin and they both studied Blues and Jazz under the guidance of an incredible teacher named Marla Weber. They soon lit out for KU in Lawrence, where they met the international man of mystery, Billy Driver. Many years later, the missing piece of the band arrived in the form of Jenny Wood, who not only blew the band away the second she sang, but also grew up near 27th street as a kid. A sign if you're ever gone believe one….
Likes:
Books, Movies, Dogs and 99-cent comp books
Dislikes:
Mean People, Greedy People, Factory farming.
Fun Fact:
If you say the words GENE SIMMONS G will tell KISS stories for the next 10 mins without taking a breath…
Interesting Fact:
G's dad was on the FBI's subversive list for protesting the Vietnam war, worked with Wolfman Jack, hung with Hell's Angels and did enough drugs to kill a horse. This may explain why Gooding's only way to rebel was to be a square
Little Known Fact:
Collects maps
Follow:
Instagram: goodingmusic
Facebook: gooding ICT
Twitter: goodingmusic
Erin O'Neill, Bkg. Vocals and Guitar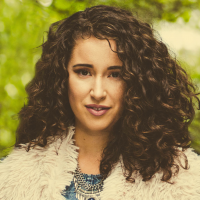 Stats:
Name: Erin O'Neill
Zodiac: Leo
From: Santa Clara, CA
Vitals: Brown hair; brown eyes; 5' 5"
Story:
Erin O'Neill was raised in a musical household in Santa Clara, CA. She expressed interest at a young age in singing and began performing with her school choir and church youth band at age 14. Shortly after she took up guitar and has been making noise ever since. In college she performed with award-winning jazz ensemble The Willamette Singers. She's performed as a member of several bands and as a solo artist performing her original material. Erin is featured on several albums, most recently Urbana 15 Worship Live, which debuted at number 15 on the Billboard Gospel charts.
Likes:
Dancing, eating, Target and Beyonce
Dislikes:
When people overshare on social media.
Fun Fact:
Has lived in every state on the West Coast.
Interesting Fact:
Once sang solo in front of 41,000 people.
Little Known Fact:
Speaks fluent Spanish
Follow:
Instagram: erino88
Facebook: erinomusic
Snapchat: errrno
Website: erinomusic.com
Twitter: eoneill88
Billy Driver, Bass and Bkg. Vocals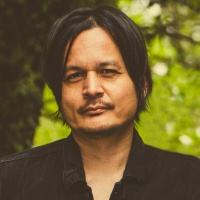 Stats:
Name: Billy Driver
Zodiac: Cancer
From: The Republic of Singapore, Jakarta and the U.S.A
Instrument: Bass Guitar
Vitals: Brown Hair, Brown Eyes, 6 foot zero inches tall
Story:
A third culture kid born and raised by the equator to an aircraft engineer father and stay-at-home mother. Billy picked up his first guitar at age 12 and joined his first band at age 16 playing heavy metal covers in seedy locations around Indonesia. Upon high school graduation, he attended the University of Kansas where he met fellow film student, Gooding. To whom he would serve as a roadie to his college band Safety Orange featuring Jesse Rich on the drums. Not soon after, he was asked to play bass and the rest is history.
Likes:
Ghosts and Goblins
Dislikes:
Olives
Fun Fact:
Was a contestant on "Trivial Pursuit: America Plays" and won zero dollars.
Interesting Fact:
Has visited over 80 cities in 16 countries.
Little Known Fact:
Played in a Beatles Tribute band called "The Walrus"
Follow:
Twitter: billy_driver
Facebook: billydriver
Jesse Reichenberger, Drums and Bkg Vocals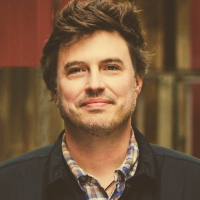 Stats:
Name: Jesse Reichenberger
Zodiac: Virgo
From: Wichita, KS USA
Vitals: Brown hair; brown eyes; 6 feet zero tall, half of a 12' 0" rhythm section
Story:
Jesse "Rich" Reichenberger was raised a block from the Arkansas river by his Mom-Peggy, Dad-Randy, and a great wealth of family and friends. Jesse first took to the drums in his bedroom at 1939 N. Gow around age 8, where he played to every record he held. He carefully limited his public appearance within those four walls until meeting Gooding in the schoolyard of Marshall Jr. High where they, as the Tremendous Two (name suggested and hesitantly agreed to on the spot) took 1st place in their talent show. That night would be the first of what is now over 1500 shows performed together in several different line-ups, across a half-a-million miles and counting.
Likes:
Wild Things (People, animals, rivers, oceans, forests)
Dislikes:
Messes (In rooms, relationships, trousers, etc.)
Fun Fact:
Has 47 black tee-shirts
Interesting Fact:
Has hiked over 2000 miles of wilderness in several of the United States, including the summits of 6 of Colorado's 14'ers: Longs Peak, Mt. Quandary, Mt. Elbert, Grays and Torreys Peaks, and Mt. of the Holy Cross.
Little Known Fact:
Alias: Forty
Follow:
Instagram: jesserich40
Facebook: jesserich